Celebrity fans
Pilar and Lucy is enjoyed by celebrities such as:
Carmen Electra
Britney Spears
Mena Suvari
Jennifer Love Hewitt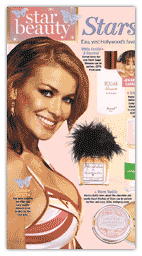 Pilar and Lucy has been featured on FOX News Channel 11 Style File
with Carmen Electra.
There was also mention in the Sunday Style Section of the New York Times (August 17, 2003).
"Inside Weddings" has a picture of Pilar and Lucy bottles for it's Valentine's Day Section.
US Weekly Magazine also published a photo with Carmen Electra on August 23, 2004 (as shown).